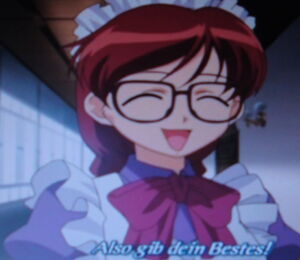 Minazuki Taeko
is a regular supporting character in the ani-manga romance series,
Ai Yori Aoshi
.

Quite pretty and with a stunning figure, Taeko is also an almost stereotypical anime clumsy girl, and by the time we meet her, has been fired from every job she takes for this reason. Sweet kind and hard-working, she lacks all confidence until given a chance as a maid by her fellow college photography club member Hanabishi Kaoru, who prevails upon Sakuruba Aoi, to whom he is secretly betrothed, to aid Taeko. Like the other residents, she has a crush on Kaoru and deeply admires Aoi as a friend and role model.
Blessed (or not) with an ever-expanding chest size, Taeko wanted to emulate her mother, who was as proficient a maid as Taeko was not. Aoi had one of many minor clashes with Kagurazaki Miyabi over hiring a girl so apt to break things. Her cooking also left something to be desired, since she tends to add chocolate to any dish, whether appropriate or not. Her own feelings for Kaoru plus the awkward efforts of her young cousin Minazuki Chika more than once place her in compromising situations with Kaoru, including an embrace inside a hot springs he won't likely forget.
Taeko gains confidence, but still remains her essential self. Growing closer to Miyabi, Taeko is with her when she manages the stores of the Sakurubas, four years after the main series ends. Her old friend Tina Foster, who is visiting Japan at that time, notes happily that Taeko is still quite accident-prone.
Ad blocker interference detected!
Wikia is a free-to-use site that makes money from advertising. We have a modified experience for viewers using ad blockers

Wikia is not accessible if you've made further modifications. Remove the custom ad blocker rule(s) and the page will load as expected.