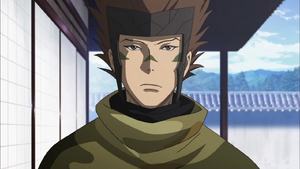 Sasuke Sarutobi
is a character from the
Sengoku BASARA Series
.
Appearance
Edit
Personality
Edit
Sasuke is a young ninja who works for the young warrior Yukimura Sanada. Sasuke is very cheeky in the anime and the video games. His personality in the anime and video games is a bit different like, in the anime he has a crush on Kasuga and tells her all the time. But in the games he does have one but doesn't tell her.
Relatonships
Edit
His hair in Sengoku BASARA 3 is a little bit longer than it was in the first Sengoku BASARA.
Ad blocker interference detected!
Wikia is a free-to-use site that makes money from advertising. We have a modified experience for viewers using ad blockers

Wikia is not accessible if you've made further modifications. Remove the custom ad blocker rule(s) and the page will load as expected.