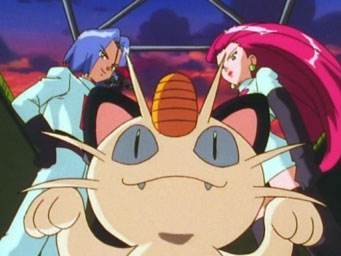 Meowth is a character from the Pokemon Anime.
Voice Actors
Edit
Nathan Price(IL002-IL031)
Maddie Blaustein(IL032-AG145)
Jimmy Zoppi(AG146-Present)
Charis Grigoropoulos(Greek)
Reationships
Edit
James is a good friend of Meowth. Meowth gets a long with him more than he does with Jessie sometimes.
The first human word he learned was rocket which kind of explains why he joined Team Rocket.
Ad blocker interference detected!
Wikia is a free-to-use site that makes money from advertising. We have a modified experience for viewers using ad blockers

Wikia is not accessible if you've made further modifications. Remove the custom ad blocker rule(s) and the page will load as expected.