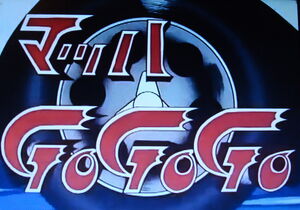 Mach Go Go Go! is a manga and anime series created by Tatsuo Yoshida, based on the films of Elvis Presley and the adventures of James Bond 007. Once imported to America, it became the basis for the multi-decade cartoon franchise, Speed Racer.
It tells the story of the independent racing family, the Mifunes, and their young champion, Mifune Go, whose look was modeled directly after Elvis Presley in Viva Las Vegas. The title bespeaks his name, the action word Go, and Go, Japanese for the number Five. Mach Go is the breakthrough experimental racing car invented by Go's father Mifune Daisuke.
CharactersEdit
CLAN MIFUNE

Mifune Go (Speed) - The young, highly skilled, and some would say reckless racing champion, driver of the Mach Go and the carrier of his family's dreams, once dashed by the sudden departure and disappearance of his older brother Kenichi, arguably an even greater driver than Go. Even in America, the G on Go's blazer stands for his Japanese name.
Mifune Daisuke (Pops) - The patriarch and leader of the Mifune Clan, and head of Mifune Motors. A bear of a man with a temper to match, he is also an indisputable genius in the field of automobile and engine design. His headstrong ways and stubborn streak cost him positions in the corporate world, but he could care less. He is leery of his sons' desire to race the cars he builds, but there is also no one else he would want or trust to handle his masterpieces. Appropriately, played by John Goodman in the 2008 feature film.
Mifune Kurio (Spritle) - The mischievous and frequently disobedient youngest son of the Mifune clan, nearly iconic for hiding in his brother's race car's trunk--though actually very rarely during races, when survivability of such a stunt is in question. He has a pet monkey named Sanpei, and together the aid they somtimes give almost balances out the trouble they cause their family. They are true delinquents, and are fools for candy, easily bribed by whoever is offering the sweets.
Mifune Aya (Mom) - The quiet support for her unruly family, with very little to say or do in either manga or anime. Susan Sarandon changed much of this in the 2008 feature film based on the series, and fleshed out her character to a great degree.
Mifune Kenichi / Kamen Racer (Rex/Racer X) - Perhaps the greatest racing car driver who ever lived, including his younger brother Go. As rebellious as his younger brothers, Kenichi was unable to live under the rules and restrictions of their father, finally leaving the family entirely after his recklessness destroyed a prototype car his father had developed, causing a heated argument between father and son. Over the years, Kenichi developed the identity of Kamen Racer, a dark and mysterious figure on the racing circuit, while also undertaking spy missions on behalf of Japan and its allies in the world. As a racer, he is fiercely protective of his younger brother, aiding him in races against the sabotage of others, yet he is not above verbally or physically slapping Go to his senses when he is foolish. In the anime, he finally admits his identity but the departs his brother's life for good. In the manga, Kenichi is reunited with his family, and his brother, with a solemn promise that they will race together.
ALLIES
Shimura Michi (Trixie) - The wealthy girlfriend of Mifune Go, a great helper and a formidable fighter in her own right, she can even race nearly as well as any member of her boyfriend's family. She is quick to scold Go if he gets distracted from his goals by wealth, power---or another pretty girl. She owns her own helicopter, a gift from her father, who owns his own aviation company. She often uses this copter to observe Go's races and call out any mischief the other drivers try to pull.
Sabu (Sparky) - Clan patriarch Daisuke may be the genius at building cars, but mechanic Sabu is the ace at keeping them running and putting them back together again after the pounding his best pal Go gives in his races. A bit of a goof in some respects, he is still a great and able mechanic, and like Michi, if one assumes the way to hurt Go is to go after his friends, this friend will show the assailant what else he can do with a wrench.

Senior Constable Rokugo (Inspector Detector) - A member of Interpol from Japan and a frequent ally of Clan Mifune, who also may or may not know the true identity of Kamen Racer. If the Mifunes are traveling in an area where a crime involving a racer needs to be solved, Rokugo is very comfortable asking Go and his family for aid, knowing their honesty and discretion can be relied upon.
Ad blocker interference detected!
Wikia is a free-to-use site that makes money from advertising. We have a modified experience for viewers using ad blockers

Wikia is not accessible if you've made further modifications. Remove the custom ad blocker rule(s) and the page will load as expected.