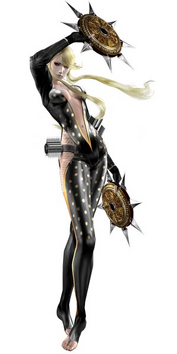 Kasuga is a character from the Sengoku BASARA Series. In Devil Kings she is known as Venus. Kasuga is a ninja who works for her love, Kenshin Uesugi.
Relatonships
Edit
Kasuga is in love with Kenshin. Kasuga was sent on a mission to kill Uesugi Kenshin. However, when she had her target in sight, Kasuga fell in love with Kenshin.
She looks sometimes like a guy in the Anime. and her hips are way to big.
Ad blocker interference detected!
Wikia is a free-to-use site that makes money from advertising. We have a modified experience for viewers using ad blockers

Wikia is not accessible if you've made further modifications. Remove the custom ad blocker rule(s) and the page will load as expected.