Brock



Name

Brock

Age

16 or 17

Gender

Male
Brock is a character from the Pokemon Anime. He is good friends with Ash.
History
Not much is known about his early childhood, except that his first Pokémon was his Onix which he received as a gift at the age of 10. Sometime after, his father left home to become a Pokemon Master. When he never returned, his mother left them as well, leaving Brock to take care of his many younger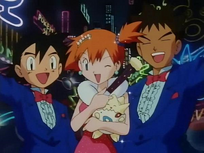 siblings, as well as their house and Pewter city's Gym by himself. However, his father eventually returned home considering himself a failure, and instead of returning to his family he donned a disguise and sold rocks as souvenirs at the edge of town. After Brock awarded
Ash
the Boulder Badge, his father came forward and confessed who he was. his father took on the responsibilities of the Pewter Gym and his family, leaving Brock free to journey with Ash and
Misty
.
Pokemon
Relatonships
Brock first met Ash at Pewter City's Gym.
Gallery
Trivia
Ad blocker interference detected!
Wikia is a free-to-use site that makes money from advertising. We have a modified experience for viewers using ad blockers

Wikia is not accessible if you've made further modifications. Remove the custom ad blocker rule(s) and the page will load as expected.