Black Rock Shooter
(ブラック★ロックシューター Burakku Rokku Shūtā?) is a 2010 Japanese original video animation produced by Yutaka Yamamoto's studio Ordet and directed by Shinobu Yoshioka. The 50-minute OVA is based on the song of the same name by Supercell and its accompanying music video with illustrations by Huke. Musical composer Ryo and Huke, both members of Supercell, collaborated on the project. A "Pilot Edition" of the anime was released on DVD and Blu-ray Disc in September 2009, and the full version was released on DVDs bundled with select magazines from July 24, 2010 and is subtitled in seven languages. A retail version was released on December 17, 2010. The first season of the TV series in Japanese was aired in Fuji TV's Noitamina slot from February 3rd to March 23rd, 2012, while the English version aired from March 13th to May 1st. The OVA has also spawned two manga series and a PSP video game, each set in their own universe.
Characters
Edit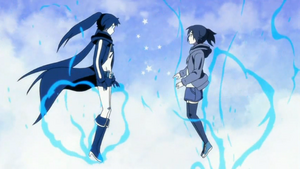 OVA Characters
Edit
Black★Rock Shooter
Dead Master
Mato Kuroi
Yomi Takanashi
Yuu
Strength
Black★Gold Saw
Anime Characters And Their Other Selves
Edit
Mato Kuroi- Black★Rock Shooter
Yomi Takanashi- Dead Master
Yuu Koutari (now given a last name)- Strength
Kagari Izuriha- Chariot
Arata Kohata- Hooded Spawn
Saya Irino- Black★Gold Saw
Insane Black★Rock Shooter
Anime Plot
Edit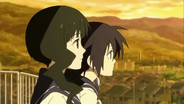 Mato Kuroi enters into junior high school, and on the first day, someone catches her eye; her classmate Yomi Takanashi. While Mato is loud and outgoing, Yomi is quiet and keeps to herself, yet the time they spend together only strengthens a growing friendship. The reason for Yomi's anti- socialness is revealed as her best friend, Kagari Izuriha punishes her and harrasses Mato for coming to Yomi's house. Mato tries desperately to not let Kagari get to her.
However, Mato begins to feel upset and goes to her school guidance counselor, Saya Irino, for help. Saya tells Mato that no matter how hurt she feels, there is someone in another world that takes most of the pain for her, referring to her Other Self. As Mato is more and more emotionally hurt, her Other Self, Black★Rock Shooter fights to the death with the Other Selves of the people who are causing Mato's pain.
Anime Series

-

-

-

-

-
-

-
-

-

-

Ad blocker interference detected!
Wikia is a free-to-use site that makes money from advertising. We have a modified experience for viewers using ad blockers

Wikia is not accessible if you've made further modifications. Remove the custom ad blocker rule(s) and the page will load as expected.