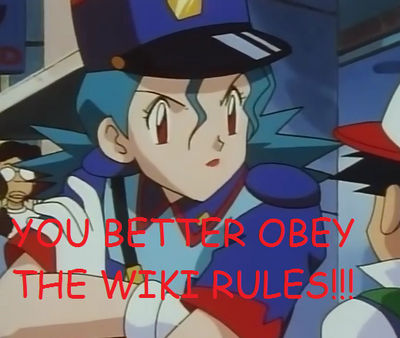 This Page is the Wiki Rules page.
Rules you have to obeyEdit
No False Information.
No Vulgarities.
No Vandalism.
Do not vandalize other users pages.
Do not be rude to the Administrators.
Respect other users.
If material is copied from another wiki (example, Wikipedia.), please create a link to the respective site.
If you need help, contact our Administrators.
Please use correct grammar, punctuation, and spelling if you edit the articles. (example, when spelling And spell it "And" not &).
Do not act like your editing the wiki (example, hit the edit button and do nothing to the page than hit publish).
Real InfoEdit
Since this Wiki is for facts we ask you to add real info about Anime and Manga. and we also ask you to add real Anime and Manga.
Fan-made informationEdit
Fan material is tolerated on user pages only. Other pages will be deleted. When making an article for your fanfiction, fancharacter, or any other fan article, you should place it within your own user page, or in a subpage of your user page. You can create a subpage by creating a page as normal at User:Username/CharacterName. For example, if User: Amyroselove created a character named "Shadow" it would be included at User: Amyroselove/Shadow.
You may post fanart that you have created, but it must not appear in any canon or mainspace article. In particular, do not add fanart of your favourite character on that character's page. It will be swiftly removed. You may include fanart in userspace or in the forums, but also be aware that fanart not in use on any pages is likely to be deleted.
There is also an other Wiki that has it where you can post your art and fan art up. My Art and Fan Art Wiki.
Forbidden Anime & Manga Edit
CLAMP (example CardCaptor Sakura), Sonic X, Voltron and American manga or Anime. (Unless it looks like authentic Japanese Anime or Manga.)
If you Fail to obey any of the Rules you will be Banned!
Have fun building the wiki!
Ad blocker interference detected!
Wikia is a free-to-use site that makes money from advertising. We have a modified experience for viewers using ad blockers

Wikia is not accessible if you've made further modifications. Remove the custom ad blocker rule(s) and the page will load as expected.